Inside My Heart Documentary: Exclusive short-term viewing available to raise awareness during Refugee Week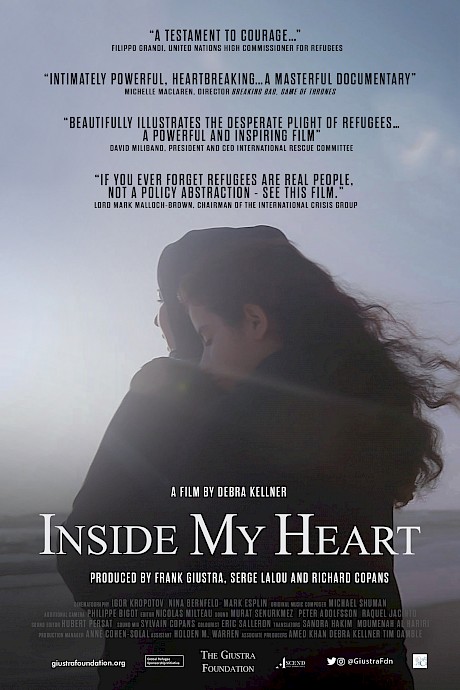 To raise awareness during Refugee Week, we are providing you with the opportunity to view the critically acclaimed documentary Inside My Heart, directed by Debra Kellner.
At the peak of the refugee and migrant crisis, three families are forced to flee war-torn Syria and Afghanistan, seeking safe harbour on foreign shores. In the wake of witnessing unthinkable atrocities and having the lives they've known wrested away, these people – mothers, fathers, sons and daughters – exhibit remarkable resilience as they fight for survival. The fly-on-the-wall techniques utilized in the film allow us to witness the families' frustrations over the course of three years and better understand the hopes they have for their children.
Demonstrating the same compassionate eye exhibited in her celebrated photography, director Debra Kellner delivers a vital reminder about the families and individuals who have been swept up in a global crisis that has seen more than 68 million people driven from their homes.
Inside My Heart – produced by Frank Giustra, Serge Lalou and Richard Copans – was supported by The Giustra Foundation with the aim of bridging the distance between those living comfortably in their country of choice and those forced to flee their homes in search of peace and stability. It serves as an artistic piece of encouragement to open our hearts to our global neighbors.
Host a free screening of Inside My Heart at your school, office, home or organization. Sign up for access to the film and we will email you a link and a password. We have also created an accompanying discussion guide and lesson plans, which can be downloaded from the links below:
If you ever forget refugees are real people, not a policy abstraction — see this film.

— Lord Mark Malloch-Brown, Chairman of the International Crisis Group

It is a testament to their courage in the face of adversity. I hope that this powerful portrayal helps to generate greater understanding of their plight.
— Filippo Grandi, United Nations High Commissioner for Refugees